Beat The Work Week Stress With These Make-Ahead Breakfasts and Lunches Featured
Written By Lorne Valencina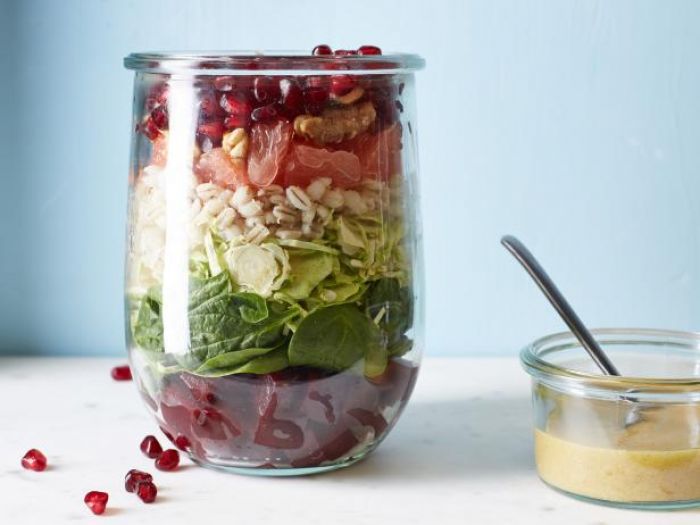 Nothing makes a long day at work more difficult than not having fuel to get through your projects, meetings, and presentations. While it's easy enough to start your day off with coffee and nervous energy, it's isn't the right kind of nutrition to sustain you throughout a robust workload. After a very frustrating winter of stressful days at the office, I realized one thing I was doing wrong was forgetting to eat breakfast and outright skipping lunch in lieu of putting in another hour at my desk. But why? My company doesn't expect me not to take care of myself, my boss would be horrified if she knew I wasn't taking breaks--so why did I allow myself to succumb to the temptation of doing more? In the end, I know it was a product of feeling pressure of holiday time off and a sense of being short-staffed, but truly there's no good excuse to skip meals. So my New Year's resolution was to spend Sundays planning, shopping, and preparing breakfast and lunch for my work week! After the initial learning curve, I found my stride as well as some amazing recipes that keep me feeling satisfied, energized, and excited about practicing self-care during the workday.
Check out some of my favorite simple to-go breakfasts and lunch, featuring the laziest lunchbox ever: the Mason jar! Be sure to add your favorite work-week meals in the comments, so we can keep encouraging each other to work smarter and safer.
Breakfast: Fruit, Yogurt, and Honey Parfait
-6oz Greek yogurt
-1/3 cup old fashioned oats, uncooked
-1 teaspoon chia seeds
-2 tablespoons milk (almond, cow, soy, nut, etc.)
-1.5 cups frozen mixed fruit and berries
-1 teaspoon honey
In a bowl combine yogurt, oats, chia seeds, and milk. Make sure the oats are well-coated, and sprinkle the honey on top. Stir to combine. Next, layer half in a mason jar or container (I like Mason jars because they're cheap, easy to store, and have unique lids I can always find in a cabinet.) Next, add half of the fruit and berries--frozen is important because as they defrost, they will permeate the other ingredients with their delicious flavor! Now, layer in remaining yogurt mixture and berries. Refrigerate overnight, and up to three full days. Tip: make four on Sunday and bring them all to work on Monday so you can have a go-to breakfast in your work fridge!
Breakfast: Brunch Casserole in a Jar
1 tsp bacon fat (bonus: you get to cook bacon to get the fat!)
2 sweet Italian sausage links
1 small Yukon Gold potato, peeled and shredded
1 yellow onion, finely diced or shredded
6 eggs, beaten
1/4 cup whole milk
1/2 tsp nutmeg
1/2 tsp sea salt
1/4 tsp pepper
Heat your oven to 375 degrees and grease 2 16-oz mason jars with bacon fat. Melt remaining bacon fat in a large skillet over medium-high heat, and dice the sausage to brown in the skillet. While it's browning, beat the eggs and milk, adding nutmeg, salt, and pepper once blended. Stir in shredded Yukon Gold potato, onion and browned sausage and continue to cook for a few minutes. Next, set up a water bath for your Mason jars in a large baking dish, adding the water until it sits just about half an inch high on the Mason jars. Now, bake for 45-55 minutes until the inside of your delicious casserole is firmly set. Let rest for 5-10 minutes before putting on the lid.
Lunch: Ginger Sesame Noodle Jars
For each Mason jar:
2 teaspoons chicken stock concentrate or bullion
1 teaspoon sesame oil
2 teaspoons soy sauce
½ teaspoon ginger, finely grated
1 cup white or whole wheat spaghetti, cooked al dente and cooled
1 cup veggies either cooked and cooled or from frozen (prefer fresh)
¼ cup shredded chicken
1 teaspoon toasted sesame seeds
Add ingredients into your Mason jar, replacing the lid immediately. Store in the fridge for up to 3 days. When you're ready for lunch, fill the jar with boiling water up to an inch below the top of the jar. Place the lid back on and allow to steep for 2-3 minutes. Stir and add your choice of garnish, like hot sauce, cilantro, or red pepper flakes.
Lunch: Brussels Sprouts and Beets Layered Salad
1 cup walnut halves (or your favorite nuts)
1 cup pearled barley
2 large pink grapefruits
3 tablespoons red wine vinegar
1 small shallot, finely chopped
2 teaspoons Dijon mustard
1/2 teaspoon honey
Kosher salt and freshly ground black pepper
1/3 cup extra-virgin olive oil
4 large cooked and peeled beets, cut into 1/2-inch pieces (about 10 ounces)
8 cups baby spinach (about 5 ounces)
1/2 pound Brussels sprouts, thinly sliced
1/2 cup pomegranate seeds
Preheat the oven to 350 degrees. Now, spread the walnuts (or preferred nuts) out on a parchment lined baking sheet, and bake until golden and toasted, about 8 to 10 minutes. Allow them to thoroughly cool and coarsely chop. Next, make the barley: Bring saucepan of water to a boil, then add the barley, and simmer for 20 minutes, until barley is plump.
Now prepare the grapefruit by peeling and cutting into wedges with the seeds removed. Set aside and prep the vinaigrette by whisking vinegar, mustard, honey, shallots, salt, and pepper in a bowl. Drizzle in the oil.
Assemble the salads: Using four 32-ounce wide-mouthed glass jars with lids, divide the beets evenly among the jars, then add the following in separate layers: the spinach, Brussels sprouts, barley and grapefruit. Sprinkle the toasted walnuts and pomegranate seeds on top. Pack the vinaigrette in a separate container and enjoy!
back to top