Most Giftable Books of 2016 Featured
Written By Lorne Valencina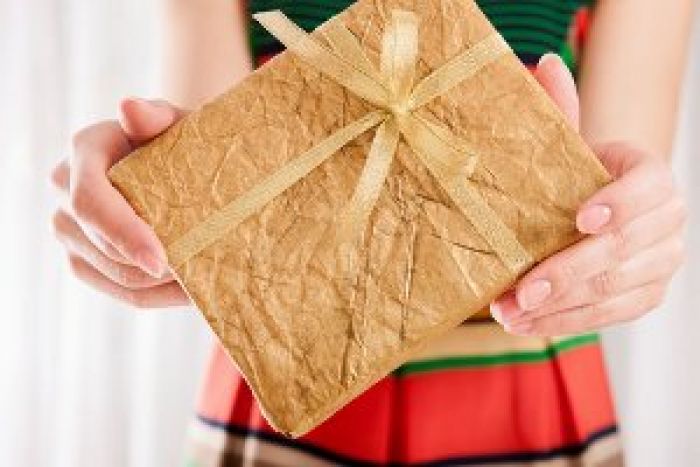 One of the best surprises to find nestled under the tree or tucked into a stocking at the holidays is a book. There is truly something for everyone, depending on their interests, and it's hard to go wrong with something useful or entertaining. Books are windows into other worlds, ways to educate ourselves on new things, tools to explore the universe without leaving our bedrooms, and doors to discovering empathy, emotional connections, and growth. When you give someone a book, you give them a story that could change their life, or skills that can make them happier and more confident--and who doesn't want that?
That said, the idea of selecting the perfect read can be overwhelming. The best place to begin is selecting a book that's been personally impactful--I tend to give away three or four copies of Rebecca Stead's "When You Reach Me" every holiday because that story means so much to me. But if you haven't read anything life changing lately, we pulled together a list of some of our must-reads and must-gives for this holiday season.
Momofoku by David Chang
David Chang, master restaurateur and chef, and Peter Meehan, respected food writer, have teamed up to bring Chang's delicious, loving, and modern cooking into your hands. You don't have to be obsessed with Asian cuisine to learn a thing or two from this book, as Chang's flawless technique is demonstrated in broth making, pork handling, and even elevating every day dishes. Chang is best known for revolutionizing American cooking with his collection of incredible restaurants, Momofuku Noodle Bar, Ssäm Bar, Ko, Má Pêche, Fuku, Nishi, and Milk Bar. Not only does this hardcover share his successes, but his learning curves, mishaps, and philosophies about dining. It's not just a cookbook, but a delightful read, giving insight into one of the most brilliant culinary minds of our century. Chang inspires readers to examine even the simplest ingredients for quality, to relish the most simple of dishes, and to master simple techniques that will truly change the way you think about cooking--especially frying a chicken!
Superficial: More Adventures from the Andy Cohen Diaries by Andy Cohen
Bravo Executive Producer, pop culture guru, talented journalist, host of "Watch What Happens Live," and the man responsible for cultural zeitgeist franchise "The Real Housewives," Andy Cohen also proves to be a wildly entertaining writer. The third of his personal diaries to be novelized, this installment carries him through his tender pooch Wacha's white coat syndrome, the launch of his Sirius radio station Radio Andy, the endless remodels of his home, and maybe...just maybe...falling in love. Studded with hot celebrity gossip, unfiltered opinions on celebrity life, and recaps of pot-fueled Grateful Dead concerts and birthday parties (including Madonna's!), "Superficial" is a hilarious, dishy read. Cohen doesn't pull punches on sharing about his journey as a gay, 40-something year old man dating in the frying pan of New York, nor does he hold back on sharing his insecurities and mishaps along the way. Perfect for any Bravo fan, this book is also great for pals into pop culture, or just really sharp, hilarious writing.
Love is Love by Various/IDW Comics
The comic book industry has come together to honor and pay tribute to the lost lives of the Orlando shooting tragedy. Created by some of the most talented writers and artists in the industry, such as Sina Grace, Damon Lindelof, Elsa Charretier, Jesus Saiz, Leinil Yu, Matt Wagner, Mike Carey, Phil Jimenez, Olivier Coipel, Patton Oswalt, Paul Jenkins, Phil Jimenez and Steve Sadowski, all proceeds go to the families of the victims, survivors, and their families. Even if you aren't shopping for a comics fan, this book cannot be missed. It celebrates love in all forms, and reminds us that even in the face of unspeakable loss, the LGBTQ community will prevail. This oversize comic is loaded with heartwarming, tear jerking, and thought provoking stories that ultimately serve to remind us how precious love is, and how hard we must fight to protect it.
What If?: Serious Scientific Answers to Absurd Hypothetical Questions by Randall Munroe
From the creator of the mega-popular webcomic "xkcd," this book is loaded with hilarious and informative answers to important questions--questions you probably never thought to ask! If you aren't familiar with "xkcd," Munroe uses stick figures to explain everything from theoretical science, to censorship, to relationships and language. With panache, brevity, and insight, Munroe has built a loyal readership, who frequently ask him off the wall questions which inspired this book. In pursuit of answers to their burning queries and more, Munroe runs computer simulations, obsesses over piles of declassified military research memos, tackles differential equations, and even consults with some legit nuclear reactor operators. His answers are not-to-be-missed for anyone who loves to learn (or at least loves to consider how many scenarios will end in really, unimaginably massive explosions!)
back to top